Being a designer is a way of life; it's not a job you leave at 5 p.m. or take a vacation from. Traveling the world has provided me with numerous opportunities to be inspired and to broaden my view of what constitutes great design. I had never given much thought to office interior design. Everything appeared to be quite conservative, without much fun, and with a focus on functionality rather than design. That changed when I was presented with the opportunity to visit the newest and most modern business center in Georgia, Vake Plaza. As I walked into their lobby, I assumed I had entered the wrong address for my meeting and had instead entered a museum.
It was the final piece of evidence I needed to declare Tbilisi one of the most fascinating cities to visit if you are interested in Architecture or Design. I was so taken with what I saw at Vake Plaza that I persuaded the project's investor, David Kazerashvili, to tell me more about the visions and inspirations behind this museum-style business center.
When he was approached about investing in this project, he made it absolutely clear that his goal was to provide Georgia with not only an iconic building on the outside but also a unique inside.
Speaking with David Kezerashvili, I discovered that the design and furniture reflect his personal interest in museums. There are numerous factors that contribute to Vake Plaza's uniqueness, but as I spoke with him, he shared some of his personal visions when it comes to interior design as well as the designers who inspired him, and the interior designer Khatuna Mikaberidze, to create this unique mini-museum. Here is a summary of my talk with David;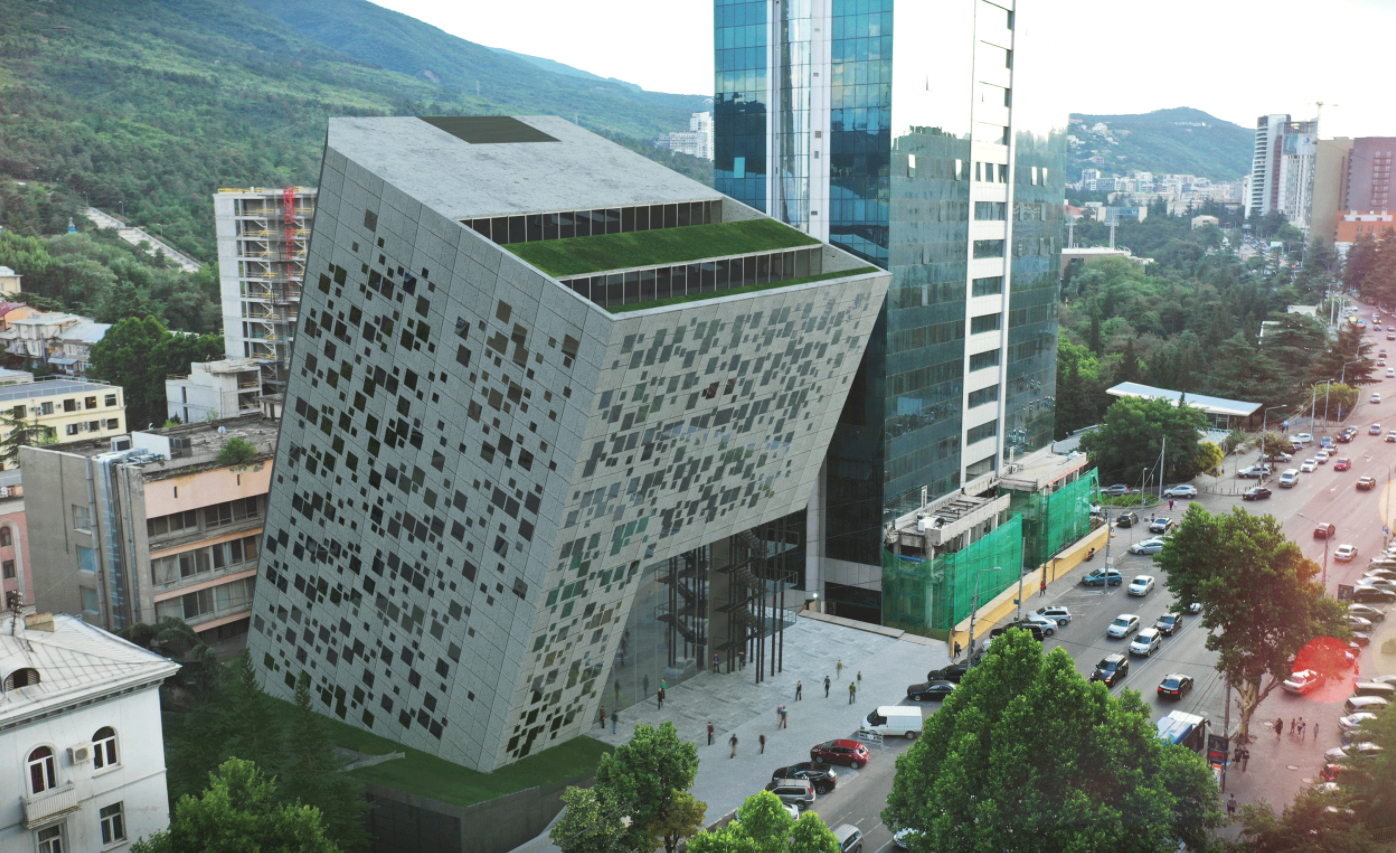 What determined you to bring a museum to Vake Plaza?
Fascinating analogy! I wanted to bring a different concept to what an office lobby should look like. I am a firm believer that the working environment shouldn't be a plain and cold one. People are used to walking in and out of lobbies, hurried to catch a meeting. And with this type of design, l want to make them stop and look around for a little, even when they wait for the elevator. I want them to find a moment to admire it and talk about how welcoming Vake Plaza is to their families or business partners.

The architects and designers l worked with made it possible for the lobby to be so impressive and, as you mentioned, a walk-in art museum. I've always been fascinated by modern art, and l think expressing it into an office building is the quintessence of this current. My idea is to bring modernist art into the corporate world and offer visitors a piece of culture to remember. In my experience, I've learned that what truly stays with people, is not what you tell them but how you make them feel.
How Exactly is Modern Interior Design in Your Vision?
Well, now I can't say I'm an expert in interior design, but to me, modern art specifically revolves around the idea of nonconformity with a little bit of simplicity. I see it like this. You have a box full of objects, many of them shouldn't be in that box. So you take out what's unnecessary to leave space for those objects that are essential. Then arrange those objects in sort of unconventional ways, that they flatter each other. When I thought about Vake Plaza, l thought of a complex yet straightforward building that you can't quite fit into a certain label. I wanted that to be reflected inside, too.
So l chose designers inspired by modernists to bring in the simplicity of the 20th and 21st centuries interior design. We went with natural colors, but also powerful ones like yellow or navy blue. When talking about surfaces, we went with chrome, steel, and glass. Natural light is also critical. I specifically wanted large windows to let natural light inside. The furniture we picked is mainly made out of horizontal and vertical lines, very robust shapes too. No curves, no fussiness.
Which Designers Inspired the Lobby Design?
I worked extremely well with Khatuna Mikaberidze, who was chosen for his talent in interior designing. Together, we considered how the Vake Plaza lobby would look like, from colors to lines to furniture type. Indeed l wanted to bring a museum to a basic corporate lobby, so we actually crossed the border and chose internationally known pieces of furniture. We have furniture from Frank Gehry, Shiro Kuramata, George Nelson, to name a few.
For example, l really admired Frank Gehry's work. His taste for corporate building design was remarkable. He had more of a postmodern vision, he designed some impressive buildings, like the famous Walt Disney Concert Hall from Los Angeles, for example, is truly exceptional.
I also needed that little bit of unconventionality to the overall design, so Shiro Kuramata was perfect for it. His creations have always been out of this world, he was known for creating designs that would be more like personal diaries, a place where form and material are more like metaphors for feelings. He created really superb artwork. All these ideas could be put together into a very unusual place, and the Vake Plaza lobby was born.
Tbilisi – a city with a rich architectural heritage
If you ever happen to visit Tbilisi, Georgia, you must first explore the modernist architecture of the buildings surrounding you. You will quickly be impressed by the diverse city landscape, especially the apartment building and offices that have been built in the last decade. The unconventional and modern patterns of each one of them will almost take you into a parallel universe, where buildings defy the laws of physics and raise into their own truth.
As you walk down the streets of Tbilisi, it's impossible not to notice the iconic buildings and as you pass by Vake Plaza make sure to step into their lobby for a unique museum experience!